BIOWORLDTM
The trusted daily biopharmaceutical news source
YOUR PRIVACY MATTERS
By submitting this request you are opting in to receive our emails. Each email we send you will include the option to opt out of receiving future mailings. View our privacy policy.
BioWorld
Today
An indispensable resource for daily breaking news and analysis on the biopharmaceutical industry. Each business day you will receive access to original content and analysis on events that impact the biopharma world. News that keeps you informed on M & A activity, competitive clinical and commercial product development, emerging technology, corporate performance, public policy and the financial markets.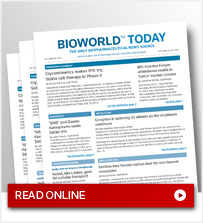 Also included in your trial:

BioWorld Today Update
Daily breaking news, sent to you every afternoon.

BioWorld Insight
An in-depth weekly providing incisive updates, analysis and commentary on market data and business trends in the biopharmaceutical industry.

BioWorld Asia
A weekly publication that is modeled after BioWorld Today, which provides focused updates on business, financial, clinical, scientific and regulatory developments affecting the biopharma industry.

To learn more visit: bioworld.com

For Sales Inquiries:
In the U.S. and Canada: 1-800-336-4474
Outside the U.S.: +44-203-684-1796
http://ip-science.interest.thomsonreuters.com/Bioworld_Sales_Inquiry
For Customer Service:
In the U.S. and Canada: 1-800-336-4474
Outside the U.S.: +44-203-684-1796
http://ip-science.thomsonreuters.com/support/#open_a_support_case
Sign up for your 10-day free trial today to receive the following:
Sign up for your 10-day free trial by completing the form below